A pool of experts ready to share their experiences with passion and to answer any questions.
For the benefit of the orchidophile user, I asked three dear friends to assist me in the task of answering questions on cultivation and more, to be able to offer the sum of our direct experiences. Only those with direct experience can give advice to other growers, whether they are newbies or experienced growers.
For any doubt, curiosity, or assistance, contact one of our experts. They will be happy to help you.
PASSIONATE OF CATTLEYAS, PHALAENOPSIS AND VANDAS
Orchids have become my hobby. Thanks to many orchidophile friends with whom we exchange cultivation experiences, these fantastic plants are giving me a lot of satisfaction.
PASSIONATE OF ALL ORCHID GENERA, IN PARTICULAR CATTLEYAS
I started as a child, with my grandfather, to sow seeds from plants of all kinds on the Euganean Hills. Then came the passion for orchids and a new adventure began.
I experimented with the sphagnotherapy technique with the help of an expert. Thanks to the countless successes, friends have started calling me Madam Mim.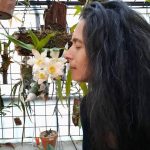 PASSIONATE OF CATTLEYA, COELOGYNE, CATASETINAE AND MINOR KINDS
Nothing is more rewarding than sharing my experience on orchids so that others can avoid my own mistakes.